How Does LendingTree Get Paid?
LendingTree is compensated by companies on this site and this compensation may impact how and where offers appear on this site (such as the order). LendingTree does not include all lenders, savings products, or loan options available in the marketplace.
Nearly 40% of Americans Pondering a Move in 2022 — And Most Hope to Buy
Updated on: January 11th, 2022
Editorial Note: The content of this article is based on the author's opinions and recommendations alone. It may not have been reviewed, commissioned or otherwise endorsed by any of our network partners.
Americans may be on the move in 2022, seeking more space to accommodate the realities of remote work as the global pandemic continues into another year.
Nearly half of on-the-go consumers hope to realize their homeownership dreams, according to the newest LendingTree survey. Over 50% of them say they need a Fido-friendly house, while a little less than half require outdoor space to call their own.
LendingTree surveyed 2,100 U.S. consumers to ask about potential relocation plans, refinancing and — in some cases — renovation aspirations for 2022.
Key findings
About 40% of Americans are considering a move in 2022. Among those most likely to move are Gen Zers and millennials (62% and 53%), remote workers (53%), renters (52%) and parents with young children (50%).
A desire for more space is the No. 1 reason Americans plan to move, while others have certain features in mind. Of those planning to move, the most common must-haves for their next home include that it be pet-friendly (54%), have an outdoor space (49%) and come with a large kitchen (43%).
Nearly half of those planning to move (46%) hope to buy a home. In addition, almost two-thirds of respondents say they'll ultimately decide by themselves on when — and where — they move. However, another 36% will do so with their spouse or partner.
More than a third of Americans say the pandemic completely changed what they're looking for in a home, as well as where they'd like to live. These sentiments are most common among hybrid and remote workers.
Two alternatives to moving for new features or lower costs: 72% of homeowners are considering renovations or upgrades to their home in 2022, and 37% might apply for a home refinance.
Americans considering moving generally plan to stay local, but motivating factors and must-haves can impact decision
Nearly 4 in 10 (39%) Americans are thinking about moving elsewhere in the U.S. in 2022. Breaking down that group further:
21% are thinking about moving within their current city
11% are considering going elsewhere in their state
8% are contemplating moving to another state
For those planning a move, finding a new place in the same city is the No. 1 choice for both men (25%) and women (17%). Meanwhile, according to LendingTree senior economic analyst Jacob Channel, consumers moving further will likely head to warmer weather states like Texas or Florida.
Here are other breakdowns by key demographics on whether people are thinking about moving in 2022:
By gender, moving is on the minds of a higher percentage of men (44%) than women (34%). The biggest difference driving these thoughts is finding a new job, as more men than women (18% and 8%, respectively) are contemplating packing up and heading out for this reason.
Zooming out, consumers thinking about moving cite their small homes as the No. 1 reason they're looking to go elsewhere, followed by fulfilling their dreams of homeownership and paying too much for their current house. Here's a fuller look: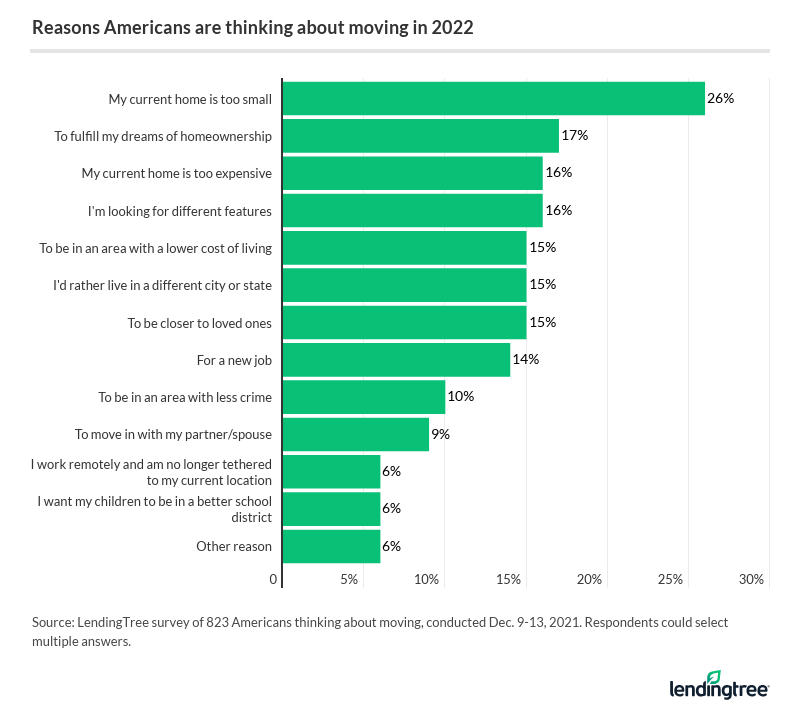 The features of a home can also impact whether Americans change their living situations. For example, pet-friendly living quarters are a must-have for both women and men, though at a lower percentage for the latter (59% versus 50%) — meanwhile, more men emphasize office space (27%) than women (22%).
Must-haves also vary widely across age groups:
Gen Zers (58%) and Gen Xers (55%) rank a happy home for pets as their top must-have, while millennials prioritize outdoor space (54%) and baby boomers covet covered parking (51%).
Millennials require a good school district (52%) more than other generations.
Inside the house, a large kitchen ranks highest for millennials (47%) and baby boomers (42%).
Here's a closer look at the overall must-haves: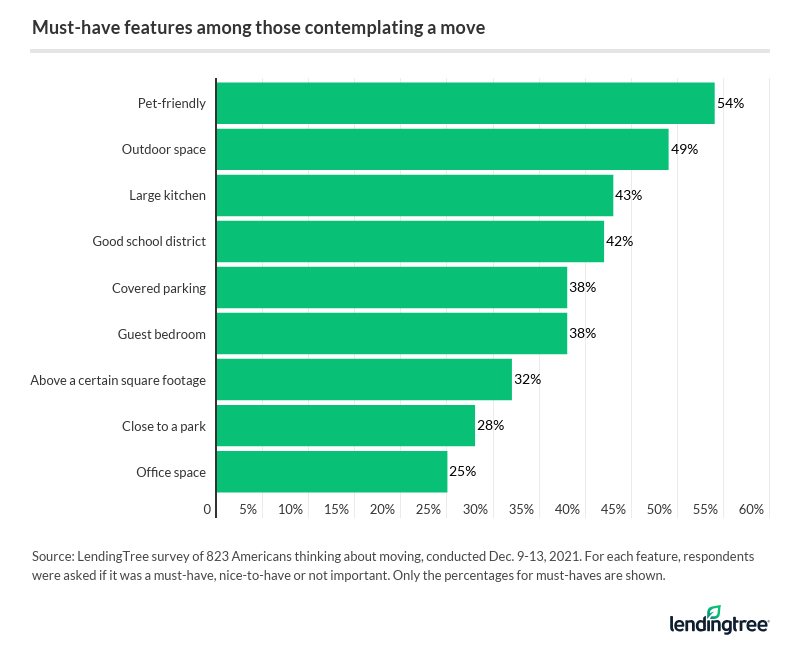 Amid rising housing prices, nearly 4 in 10 Americans expect to sacrifice more cash to change their living situation, including 38% of men and 36% of women. (This comes at the same time that nearly 70% of Americans are making sacrifices to afford housing costs.)
Those looking to move may find more homes available in 2022.
"Housing supply is expected to increase, putting downward pressure on home and rent growth while giving people a greater selection of housing to choose from," Channel says.
Baby boomers and millennials are more likely to buy a new home, while Gen Zers stick with renting
Among those thinking about moving, 46% plan to own and 39% plan to rent (another 15% are unsure).
By generation, baby boomers (51%) and millennials (49%) make up the largest share of those who plan to own, while more Gen Zers are opting to remain tenants (50%) than any other age group.
The decision to rent or buy will depend on your current financial condition — notably, higher-income earners are more likely to move to a new home than rent:
When you move to your new home, will you rent or own?
Income
Plan to buy a home
Plan to rent a home
Less than $35,000
20%
60%
$35,000 to $49,999
36%
45%
$50,000 to $74,999
59%
32%
$75,000 to $99,999
64%
21%
$100,000 or more
79%
17%
NOTE: The rest of the respondents in each income bracket responded they weren't sure.
According to Channel, if you find yourself strapped for cash, renting might be a better option. But, he adds, if you're not struggling to make ends meet and are investing for the long haul, buying might be the way to go.
But who's in charge of these big decisions? Millennials (68%) and Gen Xers (63%) often fly solo when deciding whether to move or where to live. When making housing decisions as a team, Gen Zers (42%) and baby boomers (42%) are likely to chat with their spouses before finalizing their plans.
How pandemic has changed how Americans search for homes
The pandemic has also impacted what people are looking for in a home (36%) — including 51% of Gen Zers and 49% of millenials — and where they want to live (34%).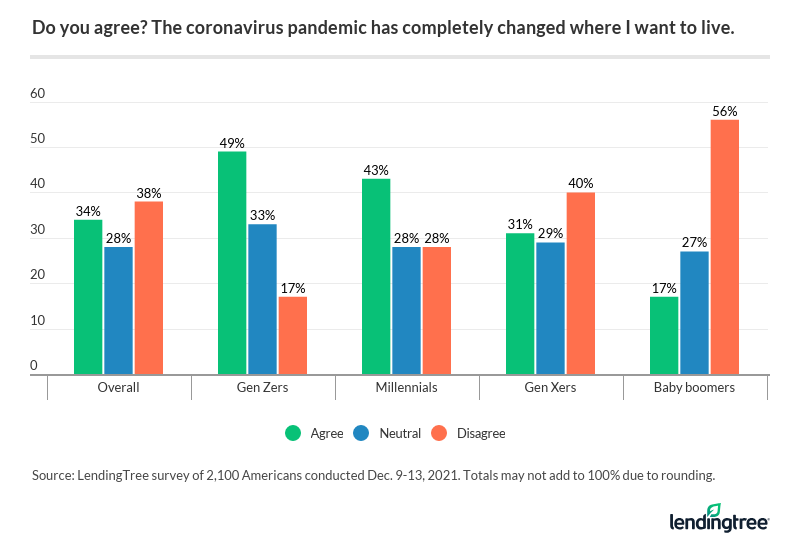 But the ongoing public health crisis may also affect consumers' moving decisions.
"Some might continue to postpone moving because they're still not comfortable going out and seeing new homes," Channel says.
However, he also notes that others may benefit from home price growth that resulted from the pandemic and sell their homes, using the profit to move elsewhere.
Homeowners across the country plan to renovate in 2022, while hybrid workers jump on the refinance bandwagon
More than 7 in 10 homeowners across the U.S. have renovation plans in 2022.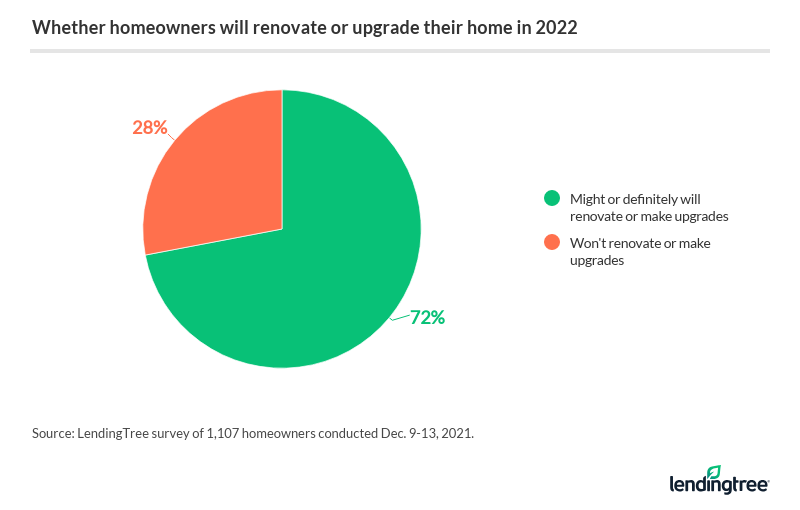 The choice of whether to sell or just renovate often depends on how much you like where you live now. If you love your home and neighborhood and don't want or need a complete overhaul, renovating might be a good bet — especially if you can qualify for a home equity loan to cover renovation expenses, Channel says.
About half of homeowners planning upgrades plan to use their savings to pay for them — in particular, Midwesterners (59%) are the most likely to let their bank account take a hit to spruce up their abode.
Other payment options for renovations include:
Cash (38%)
Credit cards (34%)
Home equity line of credit (HELOC) (10%)
Personal loan (10%)
Home equity loan (6%)
Cash-out refinance (4%)
Other (4%)
However, despite predictions for higher mortgage rates in 2022, homeowners may still benefit from refinancing. More than a quarter (27%) of hybrid workers and nearly as many remote workers (25%) definitely plan to apply for a home refinance. Plus, 23% of parents with children younger than 18 expect to apply, too.
"If — like many Americans — you've seen the value of your home significantly increase and you've built a lot of equity as a result, then a cash-out refinance could be something to consider in 2022," Channel says.
Methodology
LendingTree commissioned Qualtrics to conduct an online survey of 2,100 U.S. consumers from Dec. 9-13, 2021. The survey was administered using a nonprobability-based sample, and quotas were used to ensure the sample base represented the overall population. All responses were reviewed by researchers for quality control.
We defined generations as the following ages in 2021:
Generation Z: 18 to 24
Millennial: 25 to 40
Generation X: 41 to 55
Baby boomer: 56 to 75
While the survey also included consumers from the silent generation (those 76 and older), the sample size was too small to include findings related to that group in the generational breakdowns.