How Does LendingTree Get Paid?
LendingTree is compensated by companies on this site and this compensation may impact how and where offers appear on this site (such as the order). LendingTree does not include all lenders, savings products, or loan options available in the marketplace.
Loan Estimate: Everything You Need to Know
Updated on: June 17th, 2021
Editorial Note: The content of this article is based on the author's opinions and recommendations alone. It may not have been reviewed, commissioned or otherwise endorsed by any of our network partners.
One of the most important mortgage disclosures you'll review when comparing home loan offers is the loan estimate. The three-page loan estimate form is packed with a wealth of detailed information, but there are six things worth knowing to use to accurately compare loan terms and closing costs and avoid surprises at the closing table.
1. What is a loan estimate?
The loan estimate form was created by the Consumer Financial Protection Bureau in the aftermath of the 2008 mortgage crisis. After collaborating with a communications firm and compiling hundreds of pages of research, the loan estimate (or LE for short) replaced the Good Faith Estimate and Truth in Lending forms that had been used for decades before.
2. What appears on a loan estimate?
The loan estimate contains three pages of detailed information about the mortgage terms, closing costs and features of the loan program each lender offers. Below are the 10 most important details from each page of the LE.
Page 1 of the loan estimate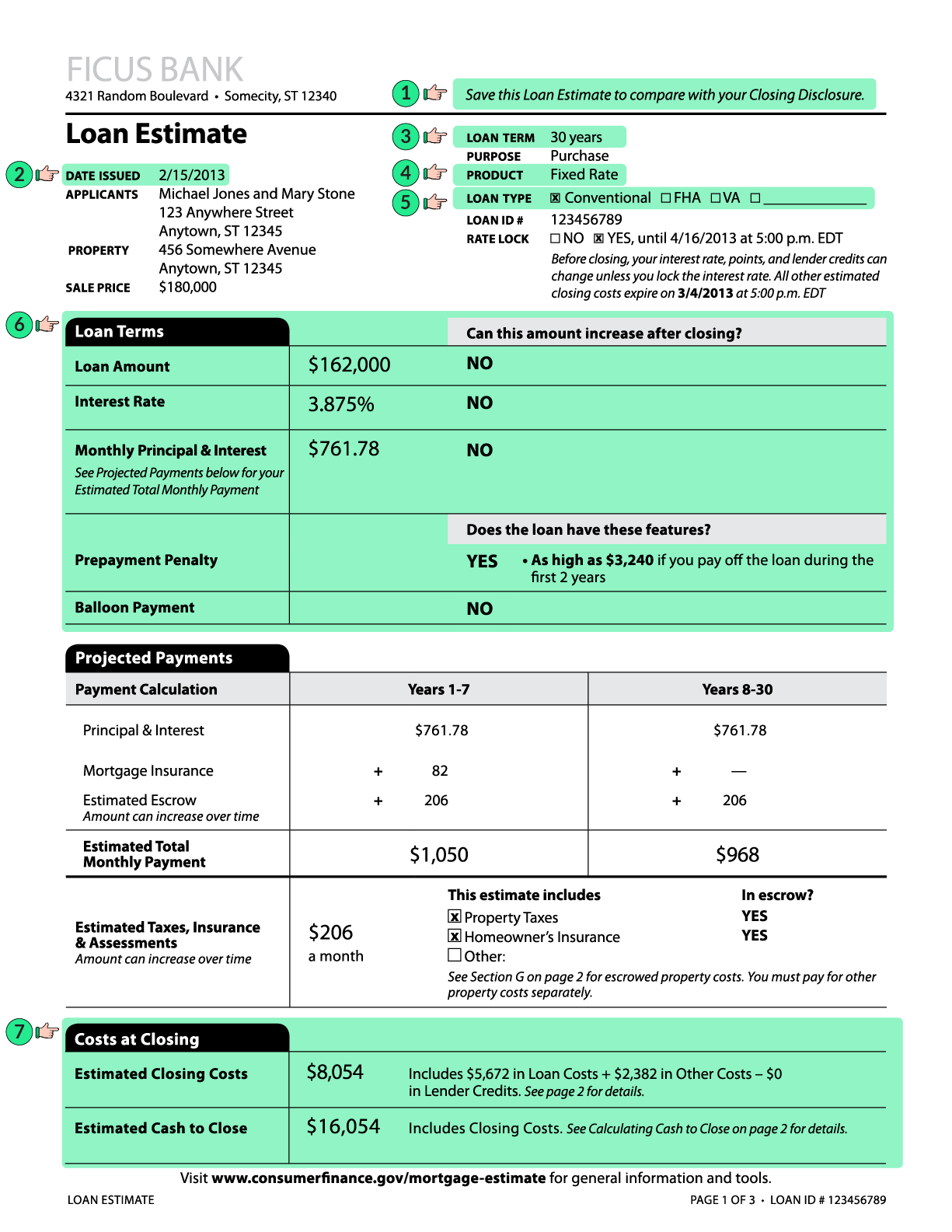 Save this loan estimate to compare to your closing disclosure. These words are italicized in the upper right-hand corner of the first page of your loan estimate. They are meant to remind you to compare the final fees disclosed on your closing disclosure to your initial loan estimate to make sure the lender honored their quote.
Date issued. You must receive a loan estimate within three business days of completing a loan application. Because mortgage rates change daily, you should collect all of your rate quotes on the same date to make apples-to-apples comparisons.
Loan term. The longer the term, the higher the interest rate. Watch out for low-rate quotes that turn out to be shorter-term loans: A 15-year fixed interest rate may be lower than a 30-year fixed rate, but the payment on the shorter term will be much higher.
Product. The two most common loan products are fixed-rate and adjustable-rate mortgages (ARMs). Some lenders quote ARMs because they offer a lower initial fixed rate for a temporary period. Make sure you're getting rate quotes for the same product.
Loan type. Lenders should discuss what type of loan you qualify for before issuing a loan estimate. Conventional loans are popular if you have good credit and stable income, while loans backed by government agencies like the Federal Housing Administration (FHA) allow for lower credit scores and more flexible lending guidelines. The product should be the same when you're comparing loan estimates between lenders.
Loan terms. You'll get your first glimpse of one of the most important components of your mortgage loan — your interest rate — on this part of the loan estimate. The principal and interest payment is broken out, but the "Projected Payments" section adds the property taxes and insurance for your total PITI payment.
Costs at closing. This section gives you an initial look at the total closing costs you'll need to pay, which usually cost 2% to 6% of your loan amount. However, wait until you review the more detailed breakdown of the costs on Page 2 of the loan estimate to compare which lender is giving you the best deal. If your lender is giving you a "lender credit" it will appear here. A lender may raise your rate slightly and pay closing costs on your behalf with a lender credit.
Page 2 of the loan estimate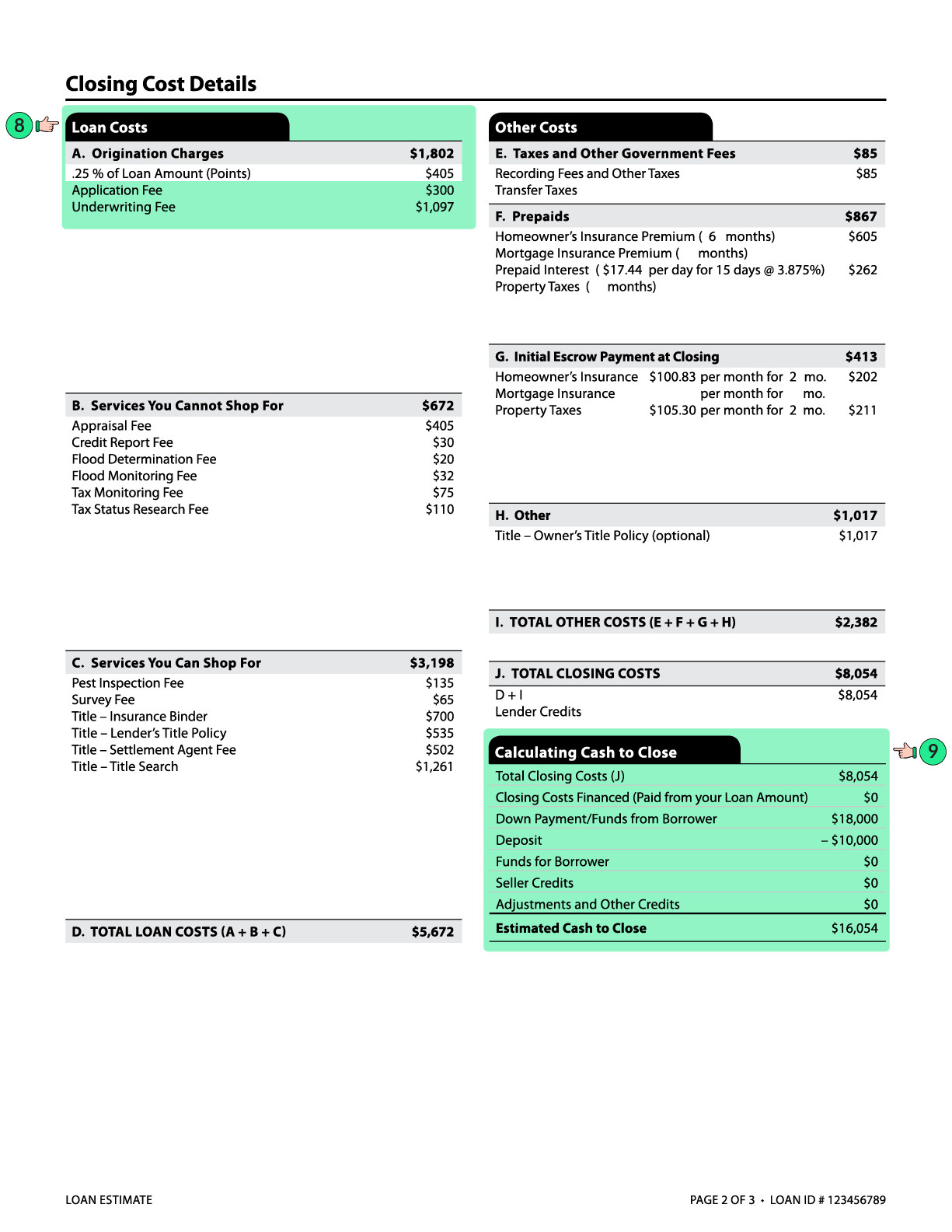 Loan costs. Sections A and B on Page 2 of the loan estimate should get your attention when comparison loan shopping. Origination charges and "Services you cannot shop for" must be disclosed accurately; lenders must honor these charges or, typically, they have to pay the difference. You may also see mortgage points in this section if you're paying extra for a lower rate.
Calculating cash to close. This is where all the itemized math of the money you need to close is mapped out for you. However, be careful to focus only on the lender fees: The "Other Costs" sections itemize tax and government fees, prepaid interest and your initial escrow payment, which will be the same regardless of the lender you choose.
Page 3 of the loan estimate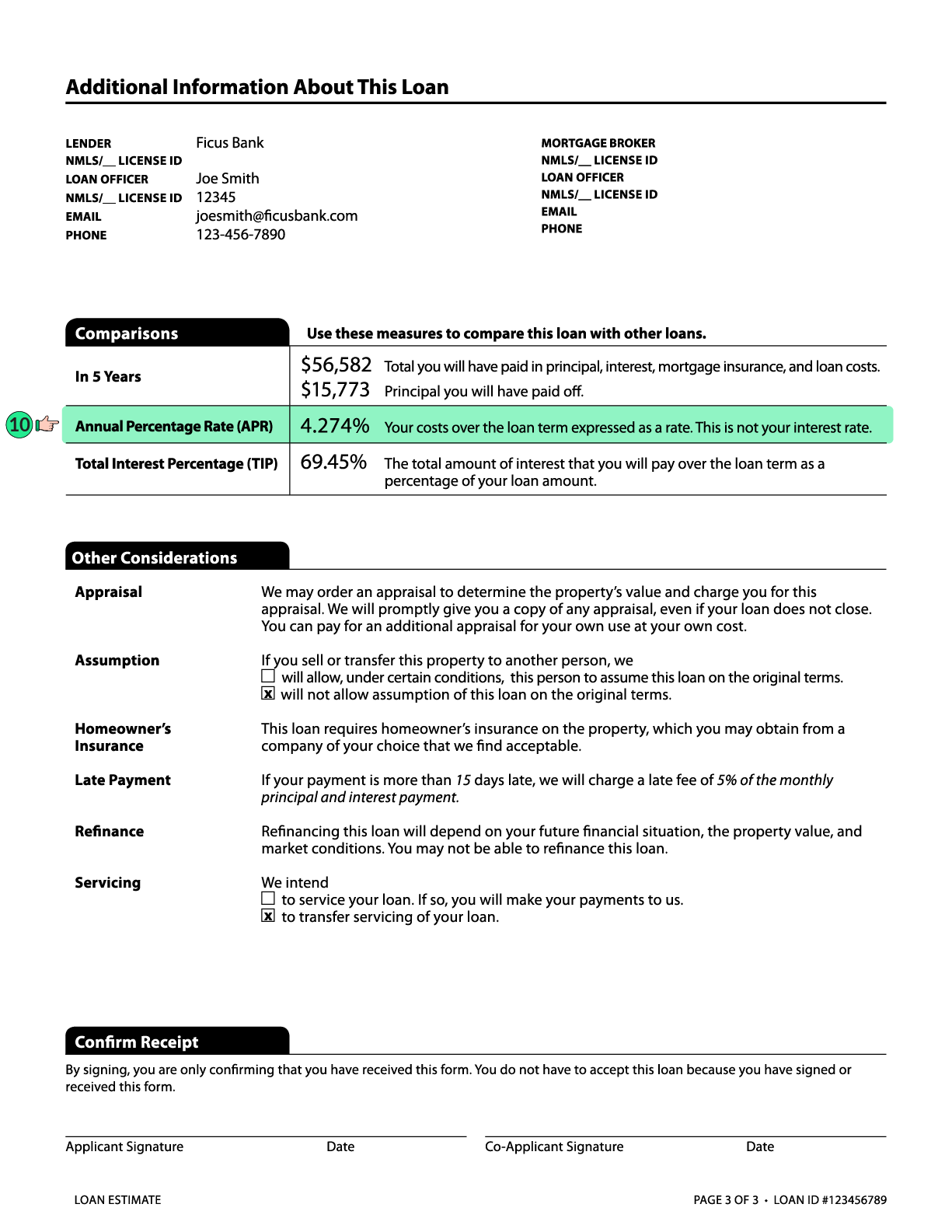 Comparison: Annual Percentage Rate (APR). Borrowers may skip the itemized costs and check the APR to decide on the best lender offer. Your mortgage APR is a measure of the total costs of taking out a mortgage. However, there are fees like escrow fees and mortgage insurance that may skew the mortgage APR higher or lower. Review the loan terms in No. 6 above and itemized fees in No. 8 to make sure you're comparing similar costs.
THINGS YOU SHOULD KNOW
You may notice a big difference in your APR and interest rate if you're taking out a government-backed loan like an FHA loan. That's primarily due to the higher cost of mortgage insurance, which protects the lender against losses if you default and they have to foreclose. FHA loans require two types of FHA mortgage insurance, while conventional loans typically only require one type of private mortgage insurance (PMI).
4. When do you receive a loan estimate?
The CFPB implemented a rule requiring all lenders to provide you with a loan estimate within three days of completing a loan application. The three-day rule is mandatory, and lenders who don't follow it can be subject to regulatory action and fines. The CFPB considers the following pieces of information as a "loan application" information that triggers the LE requirement:
Your name
Your Social Security number
The address of the home you're financing
The value of the property you're financing
The loan amount you're requesting
5. When is a loan estimate binding?
Technically, a loan estimate is only binding on the date it's issued. Like stock prices, interest rates change daily, so if you don't lock your mortgage rate in with the lender the same day you receive your loan estimate, the interest rate, terms and closing costs could change. Once your loan is locked, there are some scenarios that could result in a difference between your initial and final loan estimates. The CFPB provides common examples of situations where you might be subject to a "change of circumstance" adjustment to the terms of your home loan:
You decide to change loan programs
You decide to make a lower down payment
Your credit score drops on a credit report pulled before closing
You disclosed income that couldn't be documented or used by the lender to qualify
THINGS TO KNOW
Current regulations restrict how much certain fees on your loan estimate are allowed to change after they've been disclosed. There are three "tolerance" levels lenders must follow:
Zero tolerance. Lenders cannot change their fees at all after disclosing them, unless there's a value change of circumstance — this includes origination fees and transfer taxes. If the fees do change, the lender must pay the difference.
10% tolerance. If the total amount of fees disclosed in this category are more than 10% of the initial quote, the lender must pay the difference above 10%. This includes third party fees like title insurance, escrow fees and recording fees.
No tolerance. These costs typically include homeowners insurance and regular property taxes on your home. However, if the lender picks the title company or attorney, they are subject to the 10% tolerance rule.
6. Loan estimate vs. a closing disclosure: What's the difference?
The loan estimate and the closing disclosure differ in one significant way: The closing disclosure represents the final terms of the mortgage you're about to take out. The format is similar to the loan estimate form, except the figures are no longer estimates.
The lender verifies all of the costs from third parties like title insurance, attorney fees and appraisal invoices. The prorations for property taxes, homeowners insurance and prepaid interest are all finalized based on your closing date.
The closing disclosure also comes with its own three-day rule: You must receive a copy at least three business days before your closing.